Biomedical research grant awardee 2021
Restoring Sight with a Biomimetic Hydrogel: Innovative Approach to Treating Corneal Diseases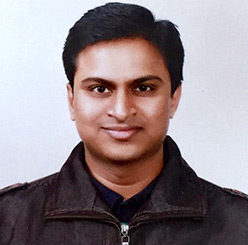 Associate Professor Indian Institute of Technology, Hyderabad
Corneal opacity, which can cause blindness and visual impairment, affects millions of people worldwide. Unfortunately, this condition is not medically reversible, and traditional corneal transplantation may not always be a feasible option due to the shortage of donor corneal tissue and the need for lifelong clinical follow-up.
But there's good news! With advancements in regenerative medicine and tissue engineering, there are now several alternative approaches to corneal transplantation, including biomimetic hydrogels, stem cells, and gene/molecular therapy. Of these, biomimetic hydrogels have shown the greatest promise.
Our team has developed a unique biomimetic corneal hydrogel that can treat corneal scarring and keratoconus, two major causes of corneal blindness, particularly in developing countries like India. Our hydrogel is made from discarded human corneas that do not meet optical standards for clinical transplantation, making it both cost-effective and easily implementable.
With the help of the  grant from SreePVF, we're now embarking on the clinical grade manufacturing and pre-clinical validation necessary for regulatory approval, and we're excited to soon begin phase 0/1 clinical trials to establish the safety and efficacy of our novel and proprietary material embedded with stem cells derived from the human eye. 
We hope to make corneal blindness a thing of the past!
Publications out of this Research Project
Sahoo A, Damala M, Jaffet J, Prasad D, Basu S, Singh V. Expansion and characterization of human limbus-derived stromal/mesenchymal stem cells in xeno-free medium for therapeutic applications. Stem Cell Res Ther. 2023 Apr 15;14(1):89. doi: 10.1186/s13287-023-03299-3. PMID: 37061739; PMCID: PMC10105964. Click here to access the article.